Designing a custom home is an exciting process. You get to create a beautiful, timeless and functional space that is tailored to your specific family dynamic, lifestyle needs, and future goals.
However, there is also more complexity involved with a custom home build as compared to choosing a stock plan from a contractor in Northern Virginia. Along the way, you will face numerous decisions about architectural and design elements, and each one can impact the cost and timeline of your project, as well as the value of your investment and your quality of life for years to come. The more information you gather near the start of your project, the better position you'll be in to make these decisions and gain confidence before your builder breaks ground on your new custom house.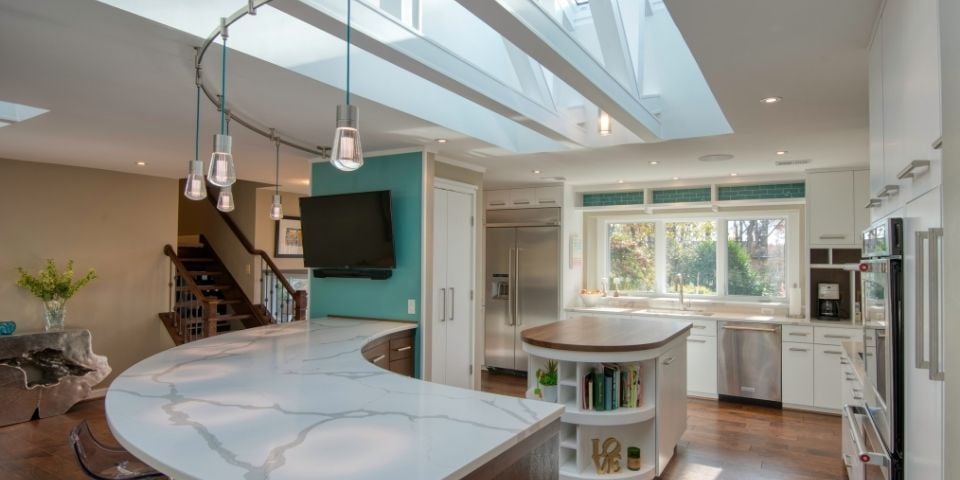 Questions to Ask a Home Builder During Design
After hiring a builder for your project in Northern Virginia or the D.C. metro area, you will meet with a designer—or potentially the architect you've brought onboard—along with your contractor. This is your opportunity to start refining the vision for your custom home and establishing expectations for what you will experience over the next several months. There are numerous topics you may touch on during your design meeting which will help you avoid making mistakes going forward, and it's good to prepare beforehand so you are ready to gather the information you need for a smooth, efficient planning process. Here are a few questions to ask at this point:
1. Are we on the same page regarding budget?
It's important that you set a preliminary budget for your custom home build and communicate that to your designer. This figure will help guide your project and give your team the ability to make feasibility determinations and suggest cost-saving alternatives when necessary. Most importantly, you need to find out if the vision you have for your home can be built within the budget you have in mind or if you need to alter the scope of work or complexity and size of the project.
2. What can I expect in terms of timeline?
At this point, your designer or architect should be able to give you a rough timeline for the design of your home. This is also a good chance to ask what is expected from you and when, and for you to share any scheduling conflicts. Reviewing the timeline at this stage of the process enables you to set realistic expectations and plan accordingly for the next year or so.
3. Who is the project lead? How will we typically communicate?
After hiring a builder for your custom home in Northern Virginia, you should be given a project manager or someone who will serve as your primary point of contact. It's helpful to figure out the best communication methods—for both them and you—and whether you should expect regular meetings. Do they prefer email, texting, phone calls, or in-person interactions? If they are out of town or unavailable, is there someone else you can speak with to get answers to questions or share ideas? In general, you may want to figure out who all will be involved in your project and how.
4. What fees are associated with the design process? What is the payment schedule for the project?
Before signing a custom home builder contract, you should be fully aware of what you can expect budget-wise. Is design part of the overall project price or do you pay a separate fee? Additionally, when can you expect hard numbers? When must additional payments be made? Discussing the financial aspects upfront ensures you and your design-build team are on the same page and help prevent any misunderstandings.
5. Do you have a signature style?
You may have already discussed this topic when researching home builders in Northern Virginia, but it doesn't hurt to revisit it during your design meeting, especially if you have a specific house style in mind or something specific you want to add, such as an in-law suite. You need to determine whether your designer is comfortable working with that style, or if they have a special touch they bring to the project.
6. Are you familiar with the neighborhood where I'm building my new home?
The reason this could be important is if you are building in a historic neighborhood in D.C. or Northern Virginia or a community that is governed by a homeowners' association. If that's the case, there may be certain guidelines and restrictions you must adhere to regarding the architectural style and exterior design of your home, in addition to setbacks and other zoning requirements. If your designer is familiar with your neighborhood or has previously developed plans for a house in that area, you will be a step ahead. Otherwise, you need to consult with your local municipality, HOA, or other governing entity to make sure you know all the rules before you get too far with planning and design.
7. What is the process for making selections? How do I request revisions?
Designing a custom home in Northern Virginia is, by nature, a nuanced and even repetitive process. Your drawings will go through numerous iterations along the way as you nail down details, price products, and materials, and choose various fixtures, features, and finishes. Your team may provide you with deadlines for making design selections to keep your project on track. It's also important to find out what the process is for making changes after construction has started and how that might negatively impact the cost, timeline, or other factors.
Creating a Custom Home in Northern Virginia
Designing and building a custom home can be a complicated and time-intensive project and could easily be prone to mistakes if you are not careful, but that doesn't mean it has to be stressful or frustrating. It all comes down to fostering clear communication between you and the professionals involved in the custom home build. That is one of the benefits of working with a team that can oversee your project from start to finish, such as Denny + Gardner. We strive to develop a strong working relationship with each individual customer so we can craft a new home for you in Northern Virginia or the D.C. area that meets your specific needs and sets you up for the future you desire.