If you've been thinking about revamping one of the bathrooms in your Northern Virginia home, no doubt you have started researching the process and what steps to take along the way. Knowing what to expect can help you establish realistic expectations and plan ahead with your family and your remodeling team.
However, as you're thinking about the different phases of a bathroom remodel, it's also important to consider what mistakes are often experienced by homeowners undergoing the same process. This will inform your decision-making and how you prepare for your upcoming home improvement project in the D.C. metro area.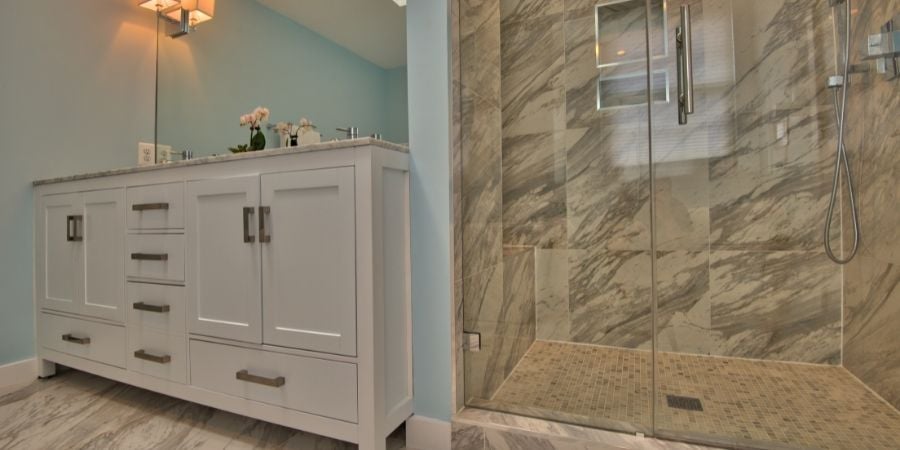 What Are Common Bathroom Renovation Mistakes?
There's a first time for everything—including bathroom remodeling. If you haven't experienced this process before, you may be feeling both excited and a bit daunted, especially when it comes to knowing what is and isn't trendy anymore. To help you design and build your bathroom remodel, here are a few tips, as well as a look at common renovation mistakes to avoid:
1. Not Establishing a Preliminary Budget
One of the first orders of business when planning a bathroom makeover in Northern Virginia is to determine how much you want to invest in the project. While you won't know exact numbers until you've finalized a design and made materials selections, it's a mistake to head into your project without at least a ballpark range of what you want to spend. This preliminary bathroom makeover budget is essential for keeping your project on track, preventing scope creep, and enabling you and your remodeling team to implement cost-saving measures.
2. Keeping a Poor Layout
If you have a poorly designed bathroom, then upgrading your vanity or replacing your bathtub won't do much good. Even the nicest materials and most convenient features can't compensate for a bad bathroom design. While making structural changes is a bigger investment upfront, it pays off in the end by optimizing the flow of your bathroom, as well as the function and aesthetic appeal of your major bathroom components.
3. Neglecting Ventilation
While it's more fun to focus on tangible products—such as the tile for your bathroom backsplash or the perfect vanity to elevate your space—you can't forget about the behind-the-scenes aspects of a bathroom that are essential for your comfort and convenience. One of those things is ventilation. As part of your upcoming project in Northern Virginia, make sure you install an adequately sized bathroom exhaust fan to prevent humidity from being trapped in the space. That can lead to a variety of problems, including paint and grout deterioration and mold and mildew growth.
4. Prioritizing Design Over Function
One of the most common remodeling mistakes is to not think ahead to how you will function in your bathroom on a daily basis. There are several beautiful features and materials available for your bathroom renovation, including handcrafted tiles, elegant wood vanities, and rich marble countertops. While it is worthwhile to explore all your options, keep the function of your updated bathroom at the forefront. That includes characteristics such as ease of maintenance, access, durability, and long-term performance. This is especially true if you are designing a bathroom used by young children or older adults. For example, a natural stone floor looks lovely, but it can get quite slippery when wet and is also easier to scratch and scuff up. You want to create a space that's comfortable for everyday use by the designated household members.
5. Choosing the Wrong Materials
In a similar vein, you should do your research before selecting any products or materials for your bathroom renovation in the Washington D.C. area. Bathrooms are notorious for being wet, humid spaces where your floor, walls, and cabinetry are susceptible to getting warped or growing mold. Work with a designer to choose items made specifically for bathrooms or that is at least a suitable fit for this unique space.
6. Overlooking Lighting and Atmosphere
You use your bathroom every day for a number of tasks, such as getting ready in the morning, winding down at night, and practicing self-care. For each of these times, you may desire a different atmosphere, and your lighting choices significantly influence that. As you're planning and designing your project, consider a variety of light sources. In general, you will want to include natural light, as well as a central light source and smaller, softer lights focused on your bathtub, vanity, or decorative elements. Dimmer lights are also a nice touch to give you more control over your bathroom ambiance.
7. Not Including Adequate Storage
Space is at a premium in most residential bathrooms. It takes a clever design to optimize the square footage you have available, but it is a worthwhile investment. During the design phase of your project, spend time assessing your storage needs and developing suitable solutions to ensure you get the storage space you require. For a bathroom, that often means thinking beyond your main vanity or cabinetry and exploring creative ideas to fully utilize your wall space as well.
Transforming Your Bathroom in Northern Virginia
When renovating a bathroom, mistakes can arise during both the design and construction phases. In order to protect your investment, it's essential to work with a bathroom remodeling team that emphasizes careful planning, as well as quality installation and craftsmanship. With Denny + Gardner, that's exactly what you'll get. We offer a range of custom design-build services to homeowners in the Northern Virginia and D.C. metro area, giving us the ability to lead your project and ensure its success, from start to finish.