It's not uncommon for homes to need a bit of work now and then. Not only do they endure the general wear and tear of being continually lived in, but the needs of your family also tend to change over time. The good news is that you often can fix the problem by renovating a particular room or a larger area. However, there are some situations where a targeted renovation isn't enough.
When facing pervasive or large scale concerns about the size, condition or layout of your home in Northern Virginia, the question becomes whether it's more efficient to remodel the entire building or tear it down and start from scratch.
Of course, this dilemma is only relevant when you're considering the building as a whole, not something smaller, like a kitchen or bathroom remodel.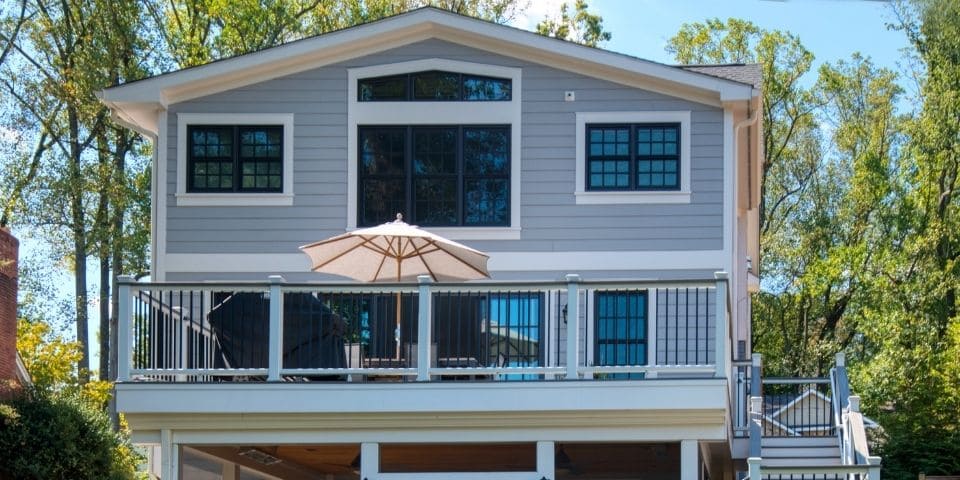 Is It Better to Demolish or Renovate a Home?
The decision between a total rebuild or a major remodel is not an easy one to make. There are numerous factors to consider, including the age of the home, where it's located and your project. In general, you can expect a new home build to take longer than a remodel. Either way, you are looking at a significant construction project that requires the skills and expertise of a reliable contractor in Northern Virginia.
Here is the look at some areas and questions to consider before choosing to tear down or remodel your home:
1. How much do you want to spend?
Budget is often the main driving force behind any home improvement project, and it can be applied in this situation as well to help you make a decision. In general, remodeling your home is the less costly option. Depending on what structural changes you make and the grade of finishes you select, your overall project price could range from about $500,000–800,000, with smaller remodeling projects starting as low as $250,000.
However, expect your costs to be on the higher end if you're completely gutting an old house. By taking this route, you also have the power to adjust your scope of work or leave off certain projects to stay in budget. However, while remodeling is cheaper, it isn't necessarily a better value.
Overall, if your budget is less than $750,000, remodeling is your only option from a financial standpoint. The cost to build a house in Northern Virginia costs, around $750,000–1.5 million, not including land. The price for a new home averages around $850,000–900,000 with an additional starting point of $850,000 to complete renovations. However, there's a good chance that the brand-new structure you end up with will have a greater long-term value and be more attractive to prospective homebuyers in the future. Once you start this project and finish demolition, though, there's no going back. Plus, you have to factor in the cost of relocating temporarily for the duration of the new construction.
2. How much do you want to change?
This question often goes hand-in-hand with budgetary concerns. Whether you choose a Virginia home remodel or a total rebuild, you have to identify your project priorities to develop an appropriate scope of work. What is it about your home currently that is no longer working for your family's routine or lifestyle? If you mostly want new appliances in every room, fresh paint, updated flooring and other upgraded finishes that can be achieved within the existing footprint of your home, then remodeling may be the way to go.
If there are several spaces within your home that are too small or lacking an optimal layout, and you're going to need to make major structural changes, this is where you can consider starting from scratch. However, remodeling can accomplish these issues just as well. There's no clear "better" option, so it will come down to your unique situation and project goals. Either way, each option will ensure your living conditions are safe, comfortable and up to code.
3. How long do you plan to live in this home?
Take a moment to think about your future goals. If you are planning on this being your forever home—or at least one you could live in for a couple of decades—you have more financial incentive to rebuild, as you will get more use from the home long-term. You could make certain structural and design upgrades now, but you're still dealing with an old home and other elements will need upgrading in the new future. Building new is like resetting the clock in terms of maintenance and upgrades. Plus, in the future, if you decide to sell, you can market a younger, more modern and attractive home.
However, you may be planning to leave Northern Virginia or the Washington D.C. area in a few years to pursue a career change or to retire. In that case, it doesn't make sense to invest in building a new home that you are going to sell off imminently. You are better off working with what you have and giving it a major facelift.
4. Are you sentimental about your home?
They say home is where the heart is, but it's also common for homeowners to pour their heart—and soul and time and money—into their physical place of residence. As a result, you may have a strong attachment to your house and a slew of memories tied up in the space, from holidays and special events to celebrating momentous occasions and watching your children grow up. With a whole home renovation, you can preserve the structure's original charm and character, along with all the aspects that mean the most to you on an emotional level.
If you reside in an older home, you may want to preserve the superior craftsmanship that is common in features of older homes, as it will be much more expensive to replicate after the fact. Also, your home may contain features, such as ADUs, basement kitchens, and in-law suites, that are more regulated in present building codes, making it much harder to include them in a new structure. The Chesapeake Bay Act also requires often up to an additional $100,000 investment to ensure that new homes are up to water run-off codes. In sum, starting from scratch means you could lose those older features and incur more building regulation costs.
On the flip side, you may not feel sentimental about your current house and instead feel drawn to the appeal of a brand-new space that gives you a fresh start. It's important to consider this aspect as part of the remodel vs. tear down debate.
The First Step to Home Remodeling in Northern Virginia
Before you decide whether to do a home makeover or tear down and rebuild, take time to honestly evaluate both what you want and what the house wants. Sometimes homes get to the end of their useful life, for better or worse, and it's better to start fresh. However, under many circumstances, you can preserve the house you love and give it new life with a custom renovation. If you'd like to explore the vast potential of a whole home remodel, our team at Denny + Gardner can help. Our tried-and-true design-build process is dedicated to making your project as smooth, seamless and successful as possible.