Whole House Renovation in McLean
---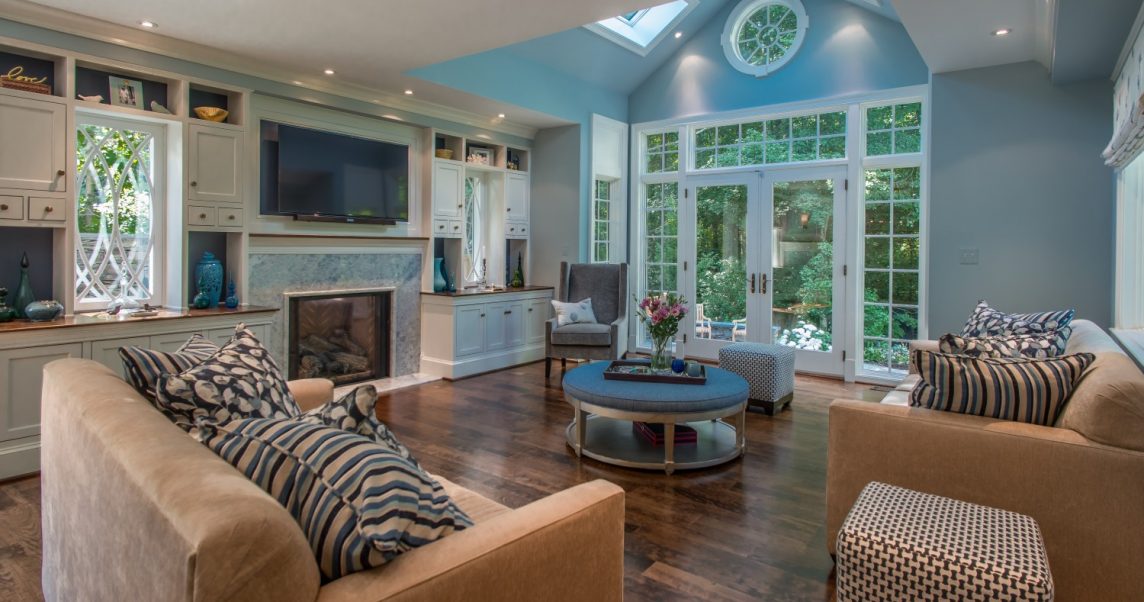 Needs / Objectives
Our client purchased an older home in McLean that was much too small and outdated to serve their family well. It was poorly designed for entertaining, had no space for a home gym, and lacked the outdoor living element the family had enjoyed in their previous home in California. The family had children of widely varying ages, and needed play and storage room for a toddler and his toys as well as a dedicated space for older teenagers with a need for privacy.
The Plan
The client had secured an architect and received plans for the renovation before meeting with Denny + Gardner. We were selected for the project through a competitive bidding process — we met both the client's budgetary needs and their requirements for a clean and orderly job site, something we pride ourselves on keeping at D+G.
Special Requests and Challenges
The project presented many challenges during renovation. The home was located adjacent to an environmentally protected area, which impacted the limits of the design. Although soil boring tests were done during the architectural design process, it was discovered during excavation that the house was built on the lowest point of the housing development, and on fill dirt, making it unsuitable for construction to progress. The basement excavation revealed that the original foundation was nine feet deeper than expected.
The Process
A myriad of surprises during the client's project meant that budget and timeline were constantly in flux. Denny + Gardner worked with a soils engineer to quickly remedy the construction site and get it ready for the renovation, including installing more than 30 stainless steel helical piers under the addition foundation. Some were drilled in deeper than 20 feet. Despite facing unexpected challenges and time crunches, we were able to provide an unexpected silver lining — 9-foot ceilings in the client's new basement.
The Result
The end result is a stunning, custom, completely transformed home that added enough square footage to give teens and a toddler age-appropriate zones, and provides more than enough additional space for the homeowners to throw large gatherings and parties. The stone patio, second-story deck with arbor, and fire pit add a little bit of California glam to a leafy Virginia backyard. Nearly every inch of the house was updated and the antiquated decor and floor plan was replaced with modern, transitional style. The living space received soaring vaulted ceilings and expansive windows, and ample storage space was added courtesy of walk-in closets, a generously-sized mudroom, and built-in cabinetry, and a dedicated workout room was added in the basement.
Quick Project Overview
Project Type: Whole House Renovation
Budget: >$1,000,000
Estimated time: 10 months
Actual time: 12 months
Notes: A complete house renovation with new additions to double the original square footage. No corner of the existing home was left untouched and each new space is stunning. Features include new cherry floors throughout, generous amounts of millwork and built-ins, custom cabinetry and natural stone tilework. The home now has several living areas and each leads effortlessly to newly created outdoor gathering areas - complete with large firepit.
Denny & Garder's team had amazing synergy. It was apparent that each member, whether employee or subcontractor, respected the others and built off each other's energy. The result was incredible work by individuals that were not only skilled craftsmen, but always respectful and pleasant to be around.