If you're planning to remodel a bathroom at your home in Northern Virginia or Washington, D.C., one of the first steps is determining how much to spend on the project.
Bathroom remodeling projects can be accomplished in various ways at different price points. Having a ballpark range in mind before contracting with a company to remodel your bathroom will help you refine your vision and manage your expectations throughout the process and can help you avoid many bathroom remodeling mistakes.

What Is the Average Cost to Remodel Your Bathroom?
The cost to remodel a bathroom in the Northern Virginia or D.C. metro area depends on numerous factors, including the size of the space, the scope of work, whether you're expanding or reconfiguring the layout, and the quality of the materials and fixtures you select.
Typically, bathroom renovations are broken down into different tiers that provide a general idea of how much you can expect to pay for a project based on the scope of work. From there, you can collaborate with your design-build remodeler to scale up or down to achieve your project goals, which also impacts the estimated bathroom remodel return on investment (ROI).
Below are some of the common types of bathroom renovations and the average associated costs.

It is important to note that these are averages and the numbers mentioned are only meant to be use as a starting point. Scope of work, materials used, and the size of the space can all have great impacts on the cost of a bathroom remodel in Northern Virginia.
Minor Mid-Range Bath Remodel
If you plan to do any sort of remodeling—not merely touching up your bathroom design with cosmetic upgrades—the cost in the Northern Virginia or D.C. metro area is about $20,000 to $30,000 for a small project with midrange fixtures.
Within that scope of work, you can update a standard 5'-by-7' bathroom and replace your existing fixtures with new mid-range models, such as a recessed medicine cabinet with lighting, a standard white toilet and a porcelain-on-steel tub.
The estimated ROI for this level of project is about 67% in potential resale value.
Mid-Level, Mid-Range Bath Remodel
If you plan to do more extensive architectural and design upgrades, the typical bathroom remodel cost is about $30,000 to $40,000.
At this level, you can slightly reconfigure the space and upgrade your fixtures to be more accessible to household members of different ages and abilities. This price range also gives you the latitude to adjust your plumbing and electrical and add new technology, such as under-floor radiant heating and an ultra-quiet vent fan with humidity-sensing controls.
Additionally, you can add new lighting, flooring and a fresh coat of paint. Bathroom remodeling at this level offers an estimated 61% ROI in the DC metro area.
Upscale Bath Remodel
For a master suite or guest bathroom, you may be looking to create a more spacious, luxurious area that provides the ultimate comfort and convenience to you and other household members or guests. The cost of a major upscale bathroom remodel is about $60,000 to $70,000.
This includes expanding your bathroom within the existing footprint of your home, relocating all fixtures, and adding new lighting and extending the HVAC system.
The ROI for an upscale remodel is typically lower than that of a mid-range remodel—or about 59%—but it transforms your bathroom into a relaxing, aesthetically pleasing environment for you to use on a daily basis.
Average Cost of Bathroom Components
Individual components will play a large role in your bathroom remodel project, as the options are seemingly endless, and the prices will range depending on what you choose. Here is a breakdown of potential costs you may encounter for your bathroom components based on a rough ballpark range, and explanations of what may cause your costs to fluctuate:
Bathroom Vanity(s): $1,500 to $5,000
Do you prefer his and hers sinks as part of the same cabinet component or do you prefer separate vanities? Do you like pre-built options or would you like custom-made cabinets built to suit your individual needs?
Bathroom Tile: $3,000 to $10,000
This price will range dependent on the square footage of the tile you need and where you plan on tiling (floor, the shower floor, the shower walls, etc). Costs will also vary depending on which type of tile you feel fits your design aesthetic and what fits your budget.
Fixtures: $2,500 to $15,000
Fixtures are everything but the kitchen sink – literally. This will be your cost for a tub/shower and accompanying trim, faucets, toilet, etc.
Countertops: $850 to $2,500
If you are having your vanities custom-made or if you are adding counter space to your bathroom that isn't attached to the vanities, your choice in countertop material – marble, quartz, granite, stone, etc. – will dictate your total cost.
Lighting: $500 to $3,000
This range will be dependent on how you would like to illuminate your new bathroom, and whether you plan on including any or all of many options: ceiling lighting – recessed, fixtures, etc. – lighting over the vanities, lighting in the shower area, and more.
Relocating Plumbing: $2,500 to $7500
If your dream bathroom does not match the layout of your existing bathroom, no worries. Experienced contractors are ready for that! But, be prepared to expect an increase in cost if your new configuration requires relocating plumbing for fixtures such as the toilet or tub.
In-Floor Electric Heat: $2,500 to $5,000
We all dream of it – no more stepping out of a warm shower and onto cold flooring! If you'd like this feature in your bathroom, be conscious that your costs may vary depending on what is already available. Installing in-floor heat requires running a circuit, installing a heat mat, and thermostat. An experienced contractor will be able to walk you through this process and provide more detailed cost expectations when you consult with them about your project.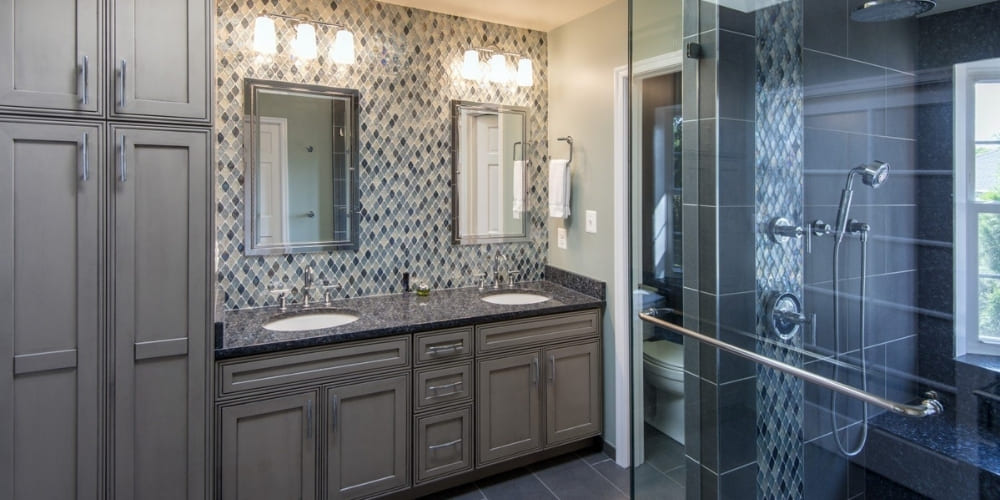 Bathroom Addition
The cost to add a new bathroom to your house in the Northern Virginia or D.C. metro area also varies depending on the size of the space, your selected materials, and the complexity of the project based on your particular home and its layout. Generally, the cost for a bathroom addition ranges from about $50,000 to $85,000. In terms of how much value a new bathroom adds to your home, the estimated ROI is about 54%.
How Much Value Does a Virginia or D.C. Bathroom Remodel Add?
If your bathroom remodel is executed properly, you can recoup more than 50% of the cost put into the project in potential resale value. In particular, projects that create a more functional space, replace worn-out items and modernize outdated fixtures lead to the greatest ROI.
Beyond tangible value, remodeling also pays dividends in the increased quality of life for you and your household members. The work can effectively make the space more comfortable and convenient, not to mention more attractive. If you replace older fixtures with newer energy-efficient models, you may also see long-term savings on your utility bills. Your sink faucets, showerheads, bathtub, and toilet can all be upgraded to be more eco-friendly.
Remodeling Your Bathroom in Northern Virginia or Washington, D.C.
Budgeting properly is an important part of the bathroom remodeling process. Once you know how much you want to spend on the project, your remodeling team in the D.C. metro area can help you design plans that fit into your intended budget and accomplish your remodeling goals. At Denny + Gardner, we provide services to take you through the entire remodeling process, from consulting on your vision and product selection through scheduling and construction. We prioritize consistent communication and effective project management to help control costs and keep your project on track.