If you're considering a bathroom renovation for your home in the Northern Virginia or Washington D.C. area, you're probably wondering what's the best type of tile to use. Should you use the same tile for the floor and shower? Is ceramic or porcelain better for shower floors? And which type of bathroom tile is the most durable? These questions can help you avoid mistakes and gain an even better understanding of tiles for your bathroom. We're here to answer your questions and get you started on designing the bathroom of your dreams.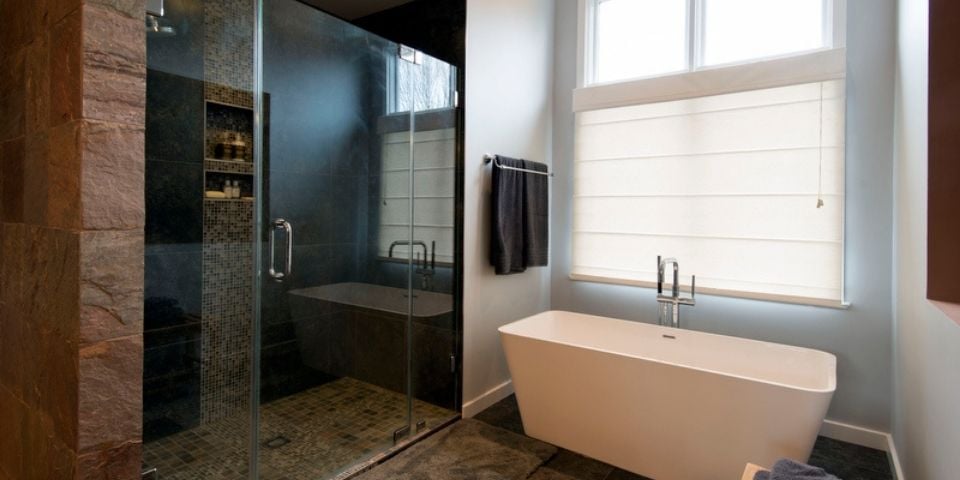 The Basics About Tile
Bathroom tiles are available in a wide variety of materials in various shapes, styles, colors and textures. You'll find tile made from just about every material you can think of in today's modern bathrooms. Plastic, cork, vinyl, stone, ceramic and porcelain are all popular materials. Before choosing a material, you should think about what you want your bathroom remodel in Washington D.C. to look like and how much you want to spend. When it comes to tile specifically, think about these things:
What shape and size do you want the tile to be? Large? Small? Round? Hexagonal?
How should they feel when you touch a tile? Smooth? Rough?
Will the final design be bright and colorful? Neutral? Have a sense of movement?
In the planning stages, thinking texture is very important. If you're trying to decide what is the best type of tile for a bathroom floor, consider the slip coefficient. That will tell how slippery the tile becomes when wet. You don't want to install tiles on your floors or shower, which poses a fall risk when wet.
Now let's look at tile made of specific materials so you can decide which is best for your bathroom renovation in Washington, D.C.
Granite Floor Tiles Pros and Cons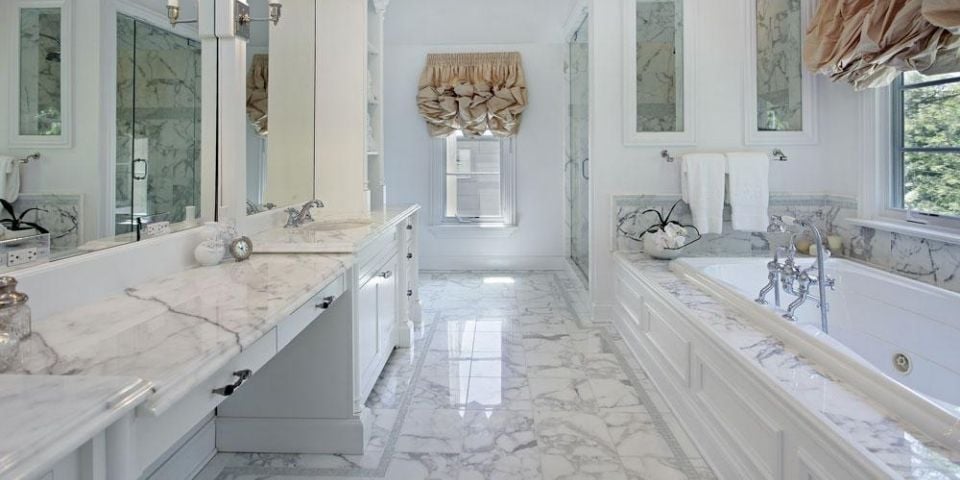 You may not have considered granite tiles for a bathroom, but they look quite luxurious when used on the floor or shower. It's available in a wide range of colors and textures. It's also much harder than other types of natural stone tile. That means it's good for high-traffic areas, but if you drop a glass bottle on a granite floor, it will very likely shatter. Also, be sure to clean granite with a PH-neutral cleaner to avoid streaks.
Sandstone Floors Pros and Cons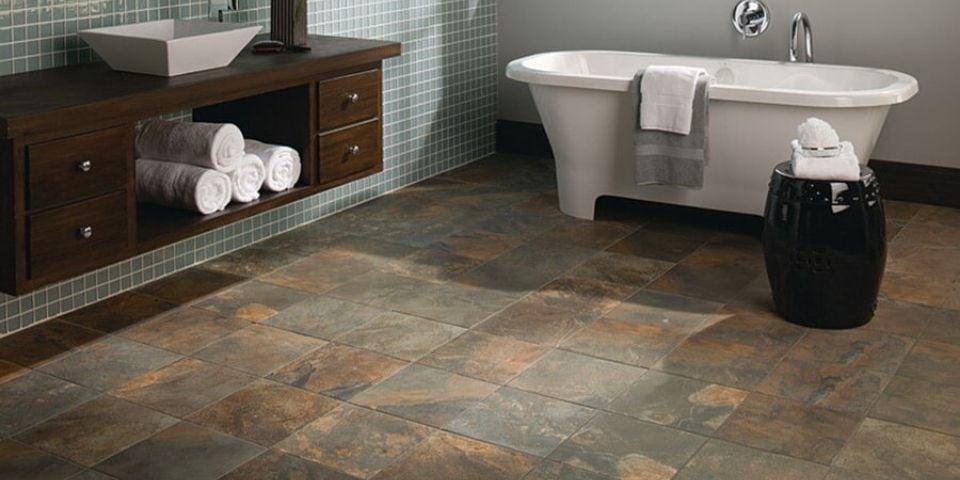 Sandstone has a distinctive look that mimics the look of red, brown, gold, and yellow sands of the beach or desert. It's a great way to add a unique look to your bathroom remodel. No two pieces of sandstone look the same, meaning you have a truly one-of-a-kind floor or shower. It's also installed in individual tiles or pieces, making it possible to replace a section if needed in the future.
However, sandstone is soft and porous, meaning it requires special care that other types of bathroom tile do not. Since it's vulnerable to water absorption, it can grow mold and mildew quite easily. It's also quite slippery when wet, and it can scratch and stain very easily.
Glass Bathroom Tile Pros and Cons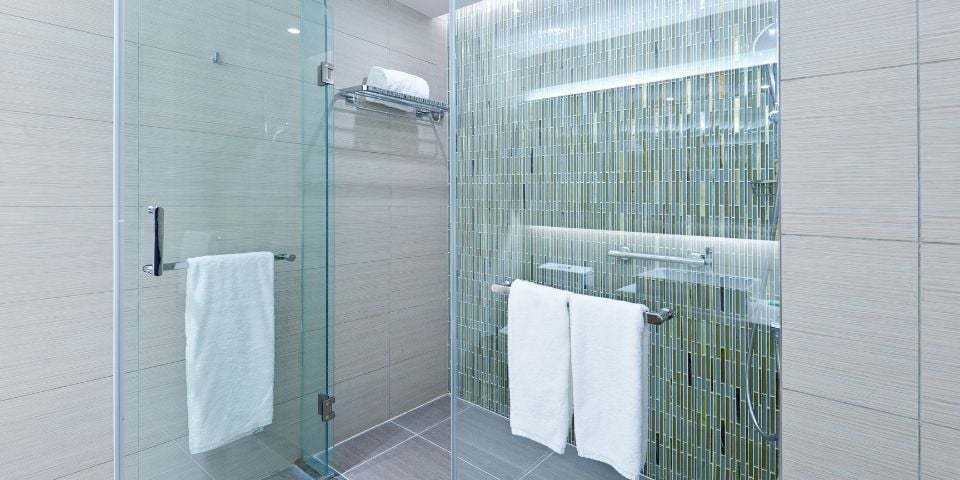 Glass tiles are elegant and reflect light, and are quite beautiful when used in a bathroom. They come in a range of colors and can be made into custom hues to match your design. However, since glass is breakable, it's not the best option for floors. It's best used to create a unique mosaic or a focal point on shower walls. While glass won't stain or absorb moisture, the grout between the small tiles will mildew so be prepared to scrub it regularly.
Ceramic and Porcelain Tile Pros and Cons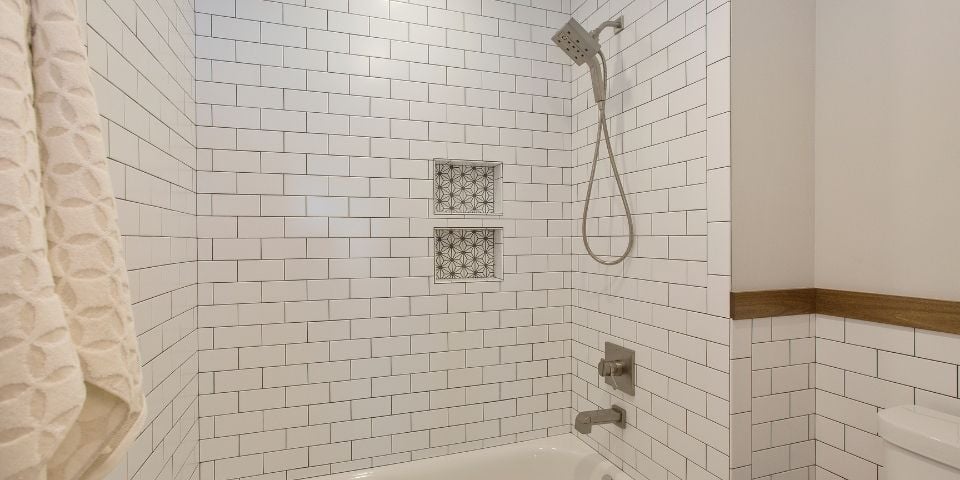 Ceramic and porcelain tile are created in much the same way. Both are made by pressing a mixture of clay into a shape and firing it in a kiln at a very high temperature. Afterward, the tile is glazed, making it a perfect choice for bathroom floors and showers. For reference, white 3x6-inch subway tile is a type of ceramic tile. The beauty of ceramic and porcelain tile is their versatility. They're available in almost any color, shape or size. Ceramic tiles can also be glazed with digital images to create a uniquely patterned design. Plus, they're easy to care for with mild cleaner and water.
A downside is ceramic tile's texture. It can be quite slippery when wet. If you want to use this tile as bathroom or powder room flooring, you can treat the tiles with a chemical traction enhancer to give them more grip.
Get Your Bathroom Renovation Started Today
Depending on the scope, a bathroom remodel could take anywhere from six weeks to three months. While the process is complex, you can trust Denny + Gardner to guide you through it from beginning to end. We can help you design the project, file permits, order materials, and complete the construction, making sure you have the most modern and up-to-date bathroom possible! Get in touch today to get your project underway!