Basements are one of the most underutilized spaces in a home, but they have the potential for transformation into additional living area, entertaining space and storage to meet your family's needs.
With the right type of renovation, your basement can become a number of things: An extra bedroom, a home office, a media room, a wet bar, or a home gym. It all comes down to what sort of space will complement your family's lifestyle—and what sort of budget you have for your project.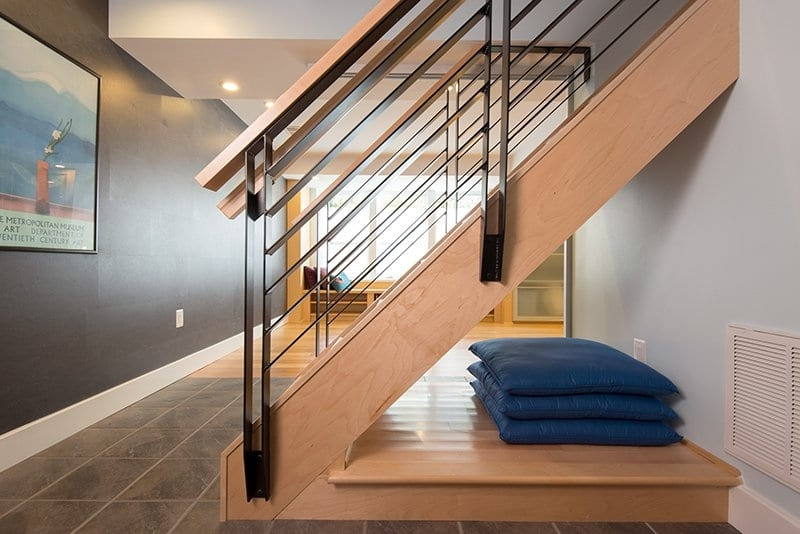 How Much Does It Cost to Renovate a Basement?
The cost to remodel a basement in Northern Virginia depends on several factors, including the size of the space, its current condition, and what new features you want to add. If you haven't touched your basement at all, or simply used it for basic storage, then you will likely need to finish the space and make it habitable before it can be dedicated to any purpose.
Finishing a basement generally entails cleaning out the space, installing insulation, framing your walls, installing drywall, adding new subflooring and flooring, and putting in a new ceiling. You may also need to upgrade your ventilation and install new electrical hookups, as well as add egress windows. The idea is to make your basement compatible with everyday living, no matter how you intend to use it.
Once you have a blank canvas to work with in your basement, it's time to design a distinct space based on your lifestyle needs. That could involve converting your basement into a home theater with a high-quality A/V system, or adding a bedroom with bathroom and turning the space into an in-law suite. Your overall project price is influenced by the features and quality of materials you select, as well as how much plumbing and electrical work is required. For example, putting in a bathroom or a small kitchenette to create an inexpensive apartment space is a significantly bigger investment than building a basic in-home gym or family den.
To help you establish a preliminary budget for basement remodeling in Northern Virginia, here is a brief overview of the main expenses:
Insulation: $2,000 to $4,000
Framing: $6,000 to $10,000
Drywall: $8,000 to $10,000
Waterproofing: $5,000 to $7,000
Soundproofing: $3,000 to $4,000
Flooring: $6 to $10/sq. ft.
Wiring and Electrical: $3,000 to $4,000
Plumbing: $4,000 to $5,000
Installing Below-grade Egress Windows: $8,000 to $10,000
Basement Walkout: $15,000 to $20,000
Painting and/or Wallpaper: $4,000 to $6,000
Installing a Closet: $1,000 to $3,000
Wet Bar: $10,000 to $22,000
Fireplace: $4,000 to $8,000
Overall, the average cost of a basement remodel ranges from about $50,000 to upward of $100,000 for an upscale renovation. This covers labor and materials, but there are other fees to also consider when budgeting, such as waste disposal, equipment, design, and permits for the project. If your basement remodel requires structural modifications, electrical and plumbing upgrades, or exterior work—such as adding a window well for egress—you'll need to acquire building permits from your municipality.
Is Basement Remodeling a Worthwhile Investment?
Basement remodeling, as with any home improvement project, is an investment. The question is, what sort of return on that investment (ROI) can you anticipate by finishing or converting a basement?
In general, basement remodeling in Northern Virginia yields an estimated ROI of 70%, meaning you can recoup a majority of your initial costs in potential resale value. While there are several factors that affect ROI, such as your neighborhood and market conditions when you go to sell, there are tangible benefits of upgrading your basement.
Additionally, turning your basement into an extra living space is advantageous for your family's comfort and overall quality of life. You have the potential to create a convenient trendy home office that supports remote work, an extra bedroom for your growing family, a wet bar for entertaining visitors, or some other space that increases the use and enjoyment you get from your house.
Remodeling Your Basement in Northern Virginia
Before you tackle a basement remodeling project, make sure you have the pieces in place to maximize your investment. That includes carefully identifying your family's needs and knowing the reason why you are remodeling so you can bring your vision to life. At Denny + Gardner, we provide complete design-build services to streamline your basement remodel and make the most of your investment. With one team overseeing your project from start to finish, you can expect the continuity, clear communication, and cost-saving measures that result in a positive and worthwhile renovation experience.