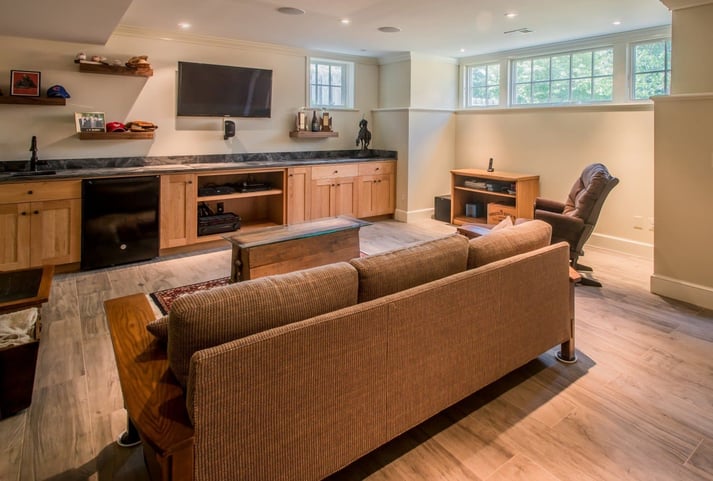 Are you considering tackling a basement remodeling project in Virginia? Upgrading and finishing a basement can add both value and function to your home, and the best remodeling companies in Northern Virginia make the process as simple as possible. Investing in a basement remodel can bring a high return if you keep function in mind throughout the process. As you plan the layout and function of your basement redesign, here are some tips to help.
1. Determine the Goal for the Space
There are many reasons to consider remodeling your basement. Maybe you need additional space for family activities, or perhaps it is finally time to add a home office to your home. Before you start your basement remodel the design, consider the need you have for the space. Are you looking to create a living room, home office, bedroom, or combination space? Open concepts are popular in basements and can serve as a multi-functional space, or you can build separate rooms for separate functions. Starting with your goal is crucial.
2. Add a Sink
Whether it's for a kitchenette, wet bar, or bathroom remodel you've been planning, plan some plumbing for the basement. You will enjoy having access to water and, potentially, a toilet. If you are going to use the space for entertaining, you will appreciate having this in the room. A wet bar or kitchenette means no need to run upstairs for snacks on movie nights or game days.
3. Build in Some Storage
When you renovate and finish your basement, you are going to naturally sacrifice some of your home's storage, so add some in the form of closets or built-in shelving. You can get creative with your basement makeover ideas to make the storage flow well with the space.
4. Make Lighting a Priority
Even if your basement is partially exposed and has outdoor windows, it's not going to be the brightest room in your home. You're going to want some lighting to make it truly shine. Work lighting into the overall design to ensure that you have a bright, comfortable space for your family's activities. Recessed lighting works very well for basements, especially if you have a lower ceiling in the space.
5. Consider Making It a Guest Suite
Do you entertain out-of-town guests often or do you anticipate having elderly parents moving in with you at some point? A guest suite can be a welcome addition to your home. That wet bar or kitchenette you added combined with a private space for a bedroom can make it a welcome retreat for people who come to visit. Make sure you have a full bathroom if you are going to make a guest suite out of the space, as this will provide your guests with everything they need for their comfort.
6. Think of the Function and Flow of the Space
Once you know what you want to do in your basement, start planning the layout. Keep the flow of the space in mind as you do. For example, if you are going to have a snack bar, position it out of the way so that you can grab a snack without crossing in front of the TV if someone is watching a show or movie. If you are having a bedroom and bathroom in the basement, keep them close to each other, or even plan a door into the bathroom from the bedroom. These types of small design elements play a big part in keeping the space functional at all times.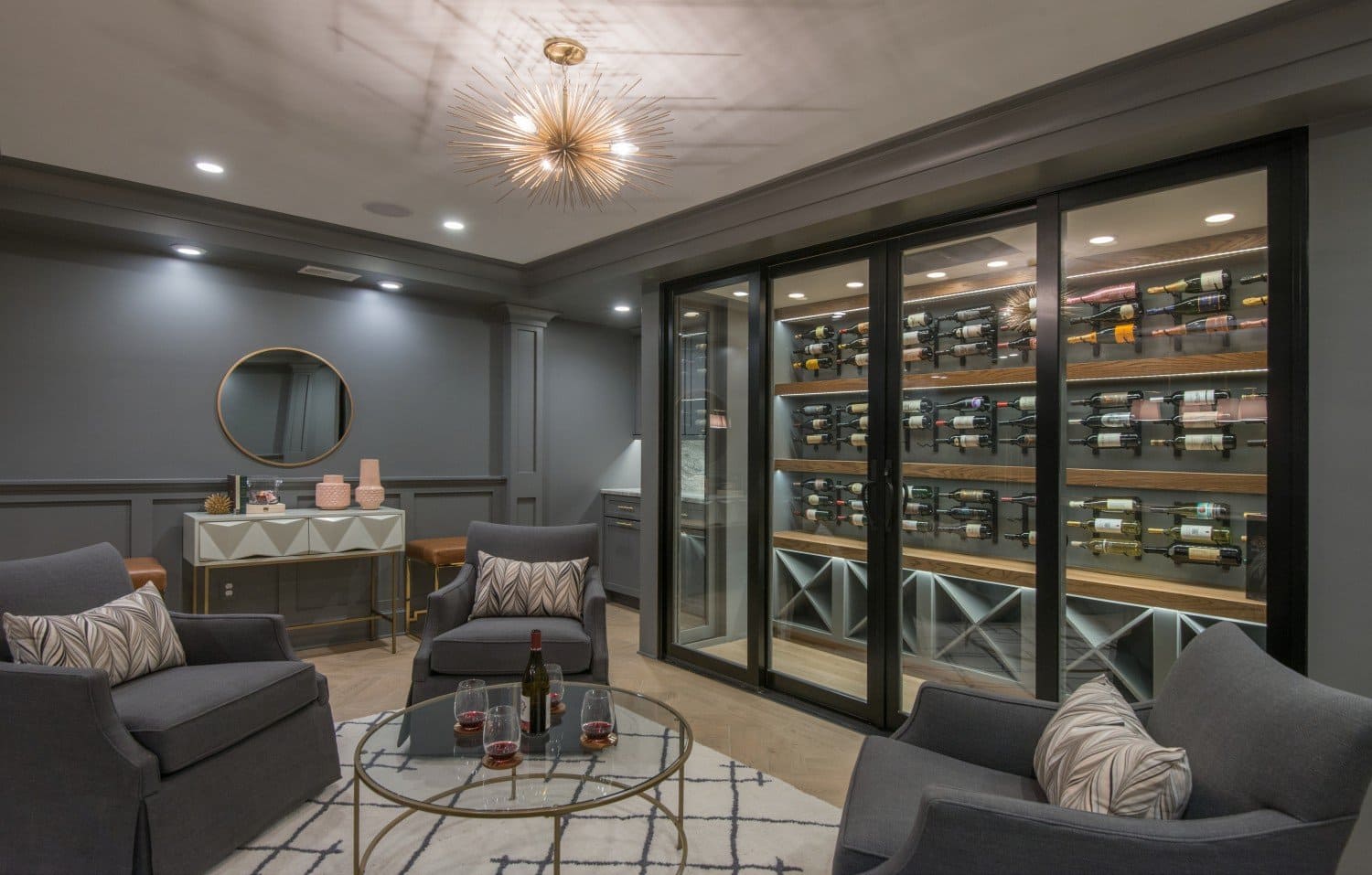 7. Choose Colors Wisely
Finally, as you're looking at basement makeover ideas, don't forget to plan for basement decorations. Color is a big part of this. Since these tend to be more confined spaces with lower ceilings, opt for a lighter color. Remember, the dark, wood-paneled basement look is outdated, and you want to embrace something warm and light for a modern basement.
8. Don't Forget Technology
One of the reasons to renovate a basement is to add a home office space. Even if you're not adding a full home office, you're going to want some tech in the space. Make sure your basement remodel and layout has some technology wiring built in. This will ensure that your basement makeover is functional both now and in the future if your usage of your space changes.
9. Partner with the Right Professional
A key to a successful basement modernization or remodel is the right professional on your side. Denny + Gardner offers basement remodeling services that can help you modernize your old basement and keep it functional, bright, and welcoming. We handle the entire process from the initial design to your final approval and walk-through. Reach out today for a free design consultation, and see just how easy a basement remodel can be with the help of our skilled team.