Homeowners in Virginia have many reasons to consider remodeling. Sometimes, outgrowing a space is the biggest reason to consider making a change. If you have a home with an unfinished basement and if you are looking for a way to give yourself a master suite at home, consider transforming that basement into a master suite. This remodeling job can transform a drab and boring basement into something awesome that can add a little value to your home. Before you start building a basement master suite, make sure you know what the job entails.
What Are Some Benefits of Turning a Basement into a Bedroom?
When you are investing in a home remodel, you need to make sure the investment will pay off. Sometimes, the added function you get is enough benefit. However, if you choose to transform your basement into a bedroom, you may add value to your home. In fact, Remodeling Magazine indicates a mid-range basement refinishing yields a 70% ROI. If that refinishing is a bedroom, the home seems more valuable in the eyes of potential buyers because of the higher number of bedrooms.
Keep in mind that resale value is in the eye of the buyer. Sometimes, basement bedrooms are not a perk, especially to a buyer with small children. However, having four bedrooms instead of three makes the home more appealing in general, so it's a change worth considering.
Not only that but using the basement as your home's master suite is more cost-effective than planning an addition, in most instances. The basement already usually has HVAC service and some wiring or lighting, so you are building on an existing structure rather than adding a completely new one. This helps you control the costs and may eliminate the need to get a building permit since you are not building a structure. You can save as much as 60% by eliminating the need to add exterior walls, foundation, and roofing to your new master suite.
Tips for Planning a Basement Bedroom Remodel
If you are going to tackle the task of a basement bedroom remodel, there are several factors to keep in mind and mistakes to avoid. These are some aspects of the planning process you will want to consider.
Planning for Egress
One of the biggest things to consider when making a basement master bedroom is egress. To make it a bedroom that follows building codes, you need to make sure that you can get out if there is a fire. If the room already has a door or window, you are fine, but if it does not, talk to your construction team about adding an egress window.
Planning the Size
On average, master bedrooms should be 200 to 300 square feet in size to give enough room for all of your furniture. Add additional square feet to accommodate your bathroom and closet needs. These large size requirements make the basement a good option for a master suite, particularly if your home has smaller bedrooms on the main floor.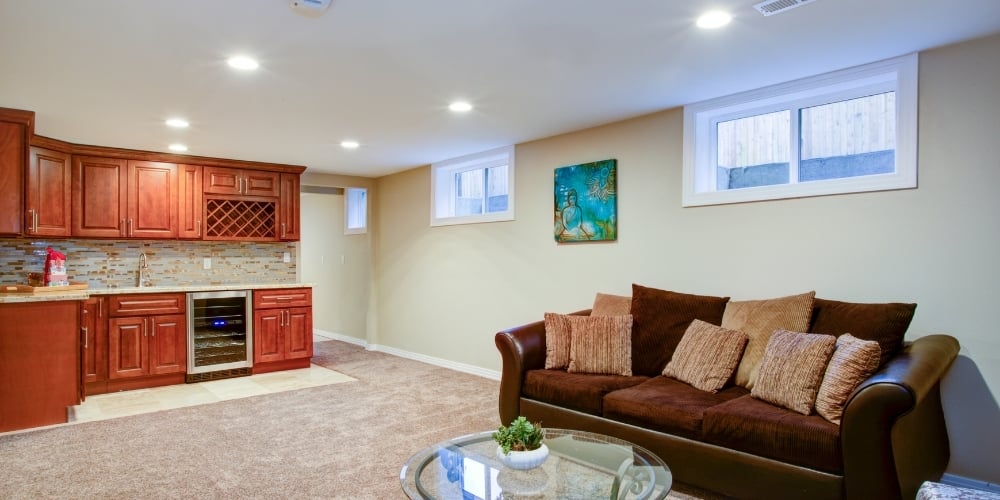 Planning the Features
Remodeling your basement and transforming it into a master suite lets you work all of the features you want into the space. Do you want a small home office in your bedroom or a seating area? You have the room to add it. Would an entertainment center in the bedroom be beneficial? Consider adding one. The large space available in a basement means you can make the space exactly what you need and want. Talk to your design team about incorporating these features, and the plugs and wiring you need for them, as part of the design process. As you design the space, make sure you avoid these outdated remodeling trends.
One of the biggest parts of the process will be your flooring. Make sure the flooring is properly installed on the concrete underneath. This may mean a thicker pad for carpeting or underlayment for hard flooring, but you will want the floor to be durable and comfortable in spite of the foundation below it.
Executing the Plan
Transforming a basement can potentially be costly but a wise move, but when you start working on the process, you may find that it's a little more involved than you think at the outset. Plumbing for the bathroom, wiring for the lighting and outlets, and adding flooring over concrete all take more work than you might realize at first. For that reason, this is one home remodeling task in Virginia and Washington, DC, that is best done with the help of a professional.
If you are considering turning a basement into a bedroom, start with the right team on your side. Denny + Gardner has over 20 years of experience as a design-build contracting team in the Northern Virginia and Washington, DC areas. We use innovative, effective techniques to manage your home remodeling project, including your basement transformation, and have the architects, designers, and builders on staff to help the process go off without a hitch. Reach out today to schedule a consultation to discuss your master suite basement transformation with our experienced designers and builders.