Your kitchen is the heart of the home and it can be incredibly satisfying to think of remodeling this space so it feels fresh, modern and better suited to your current tastes and preferences. By remodeling, you can address any features or qualities in your kitchen that no longer work with your lifestyle.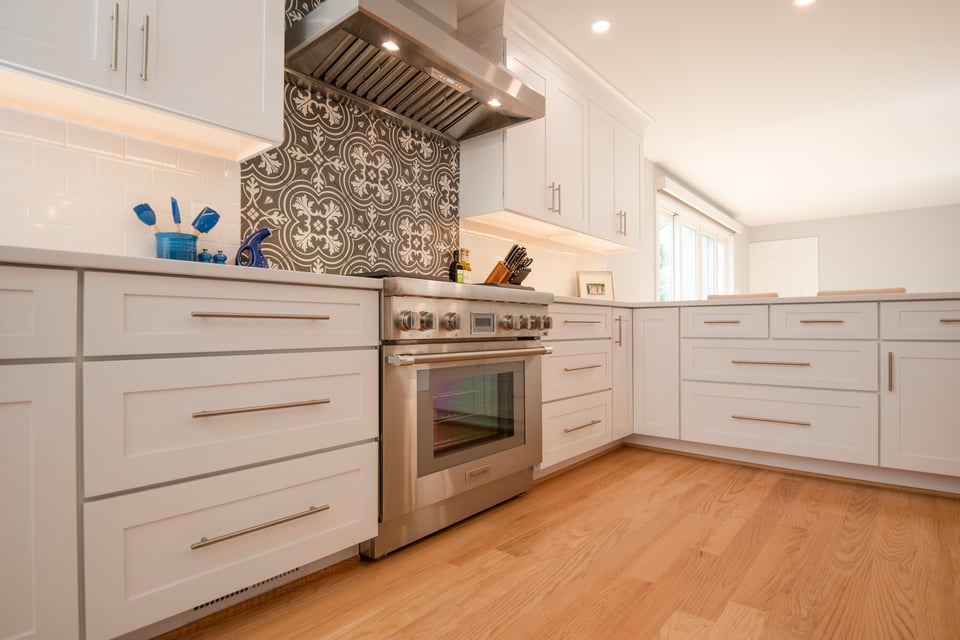 While upgrading your kitchen in Northern Virginia is exciting, it's also a major time commitment. From planning and preparation to the actual construction, it will take several months to make sure that the project successfully improves the space, and then you can enjoy your new kitchen!
What Is the Average Time for a Kitchen Remodel?
In planning for your kitchen remodel in Northern Virginia or the D.C. metro area, it's helpful to know how long the project will take so you can set realistic expectations. Your kitchen may become inaccessible for most of the construction phase, plus you'll want to know when to plan for noise and people coming and going from your home.
The average time to remodel a kitchen, if you are simply replacing your existing components and adding fresh finishes and decorative details, is about 6 to 8 weeks for construction. If you're undertaking a more dramatic and customized transformation that involves structural changes, wall removals and reconfiguring the layout, the timeframe is closer to 10 to 12 weeks. In addition, you will spend about 4 to 8 weeks working with your Design-Build remodeler on planning, design development and other pre-construction responsibilities.
These numbers are based on averages for remodeling projects involving moderately sized kitchens. However, you should only use them as a starting point. The duration of your particular remodel depends on numerous factors, including the size and current condition of your kitchen, the complexity of the project and whether you're making significant structural changes.
In What Order Do You Remodel a Kitchen?
Although the exact amount of time required for each phase of your kitchen remodel may vary, there tends to be a particular series of steps that is followed for every project to make sure it runs smoothly, efficiently and avoids common mistakes. Here is a look at the typical kitchen remodeling timeline from start to finish:
1. Planning and Design
The first phase of a successful kitchen makeover involves careful planning and preparation. During design meetings with your professional remodeler, you will decide on a layout, whether that means keeping your existing one or changing it up. Appliances, cabinetry, cabinet hardware, countertops, flooring, light fixtures and other features for your project will also be determined at this time. Your design team will refine the construction drawings until they perfectly capture your vision for the space.
2. Pre-Construction
Once the construction drawings are complete, they can be submitted for permit—a task that is typically handled by your design-build contractor. They also will develop a detailed budget and a construction schedule that outlines how the project will progress and the timing. Your project manager will coordinate with the construction crew and reliable trade partners to create an efficient schedule without major gaps. This phase also involves ordering the supplies and materials for your kitchen remodel, aligning the delivery dates with your construction schedule.
3. Construction Phase
With the drawings and permits in hand, your team can begin the renovation of your kitchen. The construction phase generally starts with prepping the area to contain the noise and debris and protect any elements—in the kitchen or nearby—that aren't part of the renovation.
After the demolition process, your team will concentrate on framing, electrical, plumbing and duct work plus mechanical rough-ins. The next step is installing insulation, hanging drywall and prepping the walls for paint. Cabinets, countertops, flooring and your backsplash are installed before painting the walls, ceiling and trim, and then your appliances are set up.
The project wraps up with a thorough cleaning of the job site and an inspection. Finally, your project manager will join you for a walk-through to introduce you to your newly remodeled kitchen space.
What Factors Affect Your Kitchen Remodeling Timeline?
No two remodeling projects are alike and you may experience little hiccups along the way that impact how long it takes to finish your kitchen upgrade. However, there are a few things that are known to alter your timeline:
The type of products and materials you use for the remodel and how you source them can significantly affect their delivery time. If you special order or import materials or custom-make your cabinetry, it could take additional weeks for those items to arrive. However, an experienced design-build remodeler can anticipate the staggered delivery times and build a schedule that works with them.


Requesting change orders that expand the scope of work or impact the delivery time for your materials after construction has started can increase your remodeling costs and potentially cause delays. It's important that you transition from the design phase to the construction phase feeling confident about your selections. That's another way you benefit from working with a design-build team. The professional overseeing construction can provide valuable insight and guidance while the plans are still being developed so you fully understand how each feature, fixture and finish will look and function as part of the whole kitchen. There's also less back and forth and potential for miscommunication when you have one company overseeing the entire project.


Remodeling Your Kitchen in the D.C. Metro Area
At Denny + Gardner, we provide a single point of accountability during your renovation in Northern Virginia or Washington, D.C. Through our refined design-build process, we work to minimize disruptions and delays so that your kitchen remodel is a smooth, efficient process from beginning to end.